What Are The Best Twa Hairstyles For African American Female
African Americans frequently wear hair in the Tiny Weeny Afro, aka TWA, style. Typically, women over 50 use these haircuts. But, such idea is out of date. Women of all ages are currently used to the TWA haircuts. And for those who adore short hairstyles nowadays, TWA is a stylish and fashionable haircut.
The TWA hairstyles are covered in detail in this article. The benefits and downsides, how-to, kinds, availability, acceptance, durability, and a host of other information on TWA hairstyles will be covered in this article.
You'll find a massive collection of TWA hair in the article. With all of the information available, we want to assist you in choosing a stunning short afro haircut. Now let's get started.
TWA hairstyle: what is it?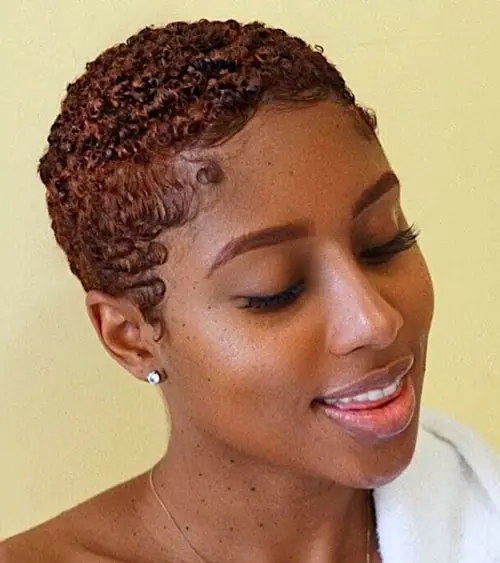 The abbreviation TWA stands for Teeny Weeny Afro. This short natural haircut is intended to prevent harm to naturally kinky hair; it is often 3 inches or shorter. To put it another way, this look will safeguard your type 4 hair. Although this type of hair has the most envious fullness, it is also quite delicate and prone to breakage. TWA hairstyles make it possible to get rid of chemically damaged, loose hair, and they're simple to do, making them ideal for novices. After you're finished, you'll have natural curls that are clear and silky and suitable for any situation!
TWA's benefits and drawbacks.
This section will be useful if you're unsure if you want to attempt a TWA. To help you decide if the TWA is the perfect style for you, we've put up a list of benefits and drawbacks.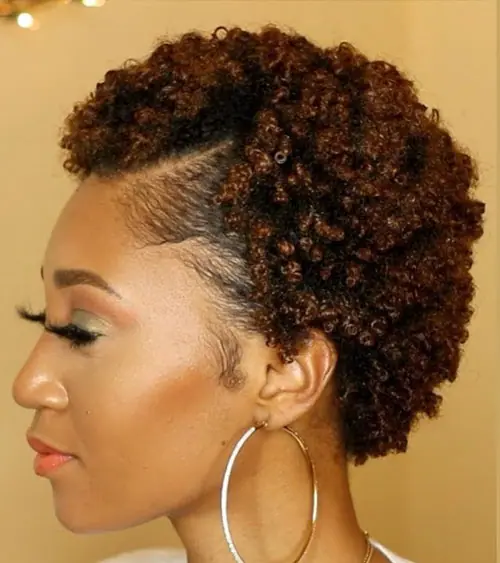 Benefits.
If you've done a major chop to get rid of damaged hair, using moisturizing and nourishing products when styling your TWA is a terrific approach to encourage healthy hair development.
If you master the shingling method, defining your TWA curls won't take much time.
This TWA style is a great way to separate your hair differently and to relieve the stress that other protective hairstyles put on your head.
Drawbacks.
Since this style won't stay as long as other protective hairstyles and since the curls will lose their definition after a few days, you'll need to change it up.
You have to use a lot of gel while doing the TWA style, which can get pricey.
You will have to decide whether the positives outweigh the negatives for the majority of naturals who try the TWA. You may always opt for a wash-and-go hairdo if the style requires too much maintenance.
Guidelines for a TWA.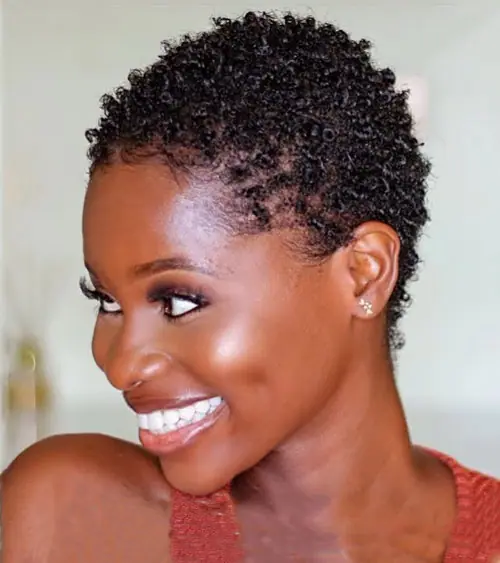 It's crucial to understand the dos and don'ts before trying the style. TWA can fail if carried out improperly. For the best outcomes, read the Dos and Don'ts listed below.
Do: Detangled hair should always be used to begin this style as it will speed up and simplify the procedure.
During styling, use a defining gel that will keep the curls in place.
Try a few gels, if required. The only method to determine whether a certain gel leaves buildup on the hair is to use it. Some gels leave obvious buildup on the hair.
Don't be too hard on yourself. Do not give up if you first struggle with the shingling method since you are a newbie. To create this gorgeous look, some trial and error is worthwhile.
Don't: Before style, always make sure your hair is clean and moisturized. This is usually a smart move since it will stop product accumulation and encourage strong hair growth.
Rushing increases the chance of snagging or breaking your strands, so take your time.
Which TWA hairstyles suit black women the best?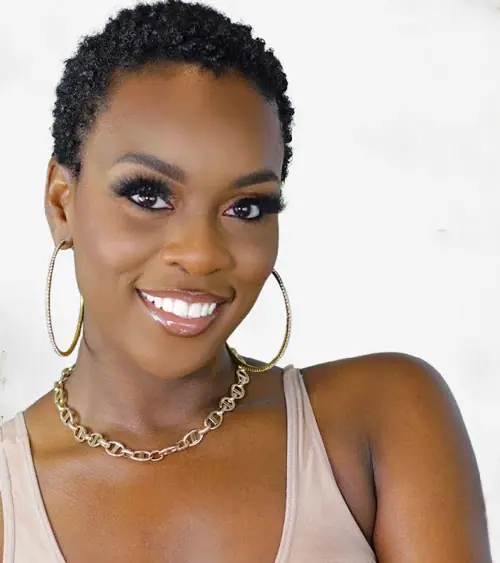 One of the quickest processes employed by African American ladies is the TWA hairstyle. This hairstyle comprises of short hair with afro pattern and curly texture. So now that you know what to do. This may be done by your hairstylist or at home. Nevertheless, you may find Tiny Weeny Afro wigs in any local beauty parlour or online wig seller. Also, this haircut is reasonably priced and accessible to all Black Americans.
Nonetheless, customers like TWA hair in a variety of shapes. It appeals to numerous ladies in various ways. Because of this, there are many different TWA hair options available. This diversity includes different hair lengths, colors, curl patterns, and directions. Yet the TWA hairdos that are most in vogue are:
I. Traditional TWA blonde hairdo.
At the time of the first haircut, the majority of short TWA haircuts are blonde. Why not reserve the traditional concept for a contrasting hue if you wish to diversify it? How about the traditional TWA blonde hairstyle? The blonde TWA haircut gets along well with a black woman, believe it or not. Your dark complexion will seem lighter with this hue instead than getting darker.
II. The mini-bantu TWA hairdo.
Conventional hairstyles like the bantu knot have long been a part of African culture. Your curls are shielded by these knots from pollution, heat damage, and hair loss. The bantu knot can be preserved for a maximum of two weeks. But after that, be careful to let your hair down to give your scalp a break. In actuality, the small bantu knot is the most distinctive TWA hairdo. It is significant and something you can accomplish on your own at home.
III. Stretched out TWA style.
The main problem with kinky hair is that it stretches out, losing the definition of your curls. Make use of this to your benefit. When fashioned in a TWA, your stretched-out curls will appear more attractive.
IV. The TWA short dreadlock hairdo.
Braids are the best when it comes to keeping your natural kinky curls in place. When you're pressed for time in the morning, this short dreadlock TWA hairstyle will allow you to wash your hair less frequently and save you a lot of time. The short dreadlock TWA hairstyle is the finest for you if you have a heart-shaped face since it allows you to emphasize your face and cosmetics.
V. A double TWA curls hairdo.
To your hair, you can apply some gel or oil. Make two parts out of the top hair. Elastic bands should be used to secure the two hair parts in a full ponytail. Inspiring makeup, big hoop earrings, and this double ponytail all go together well. For those people who have large forehead, the double TWA haircut looks good on them.
VI. The side parting style.
Put some gel in your hair, then comb the front down. Make a side parting in your hair with the rat tail end of your comb. To keep your hairdo in place all day, use a strong hold gel.
VII. TWA hairdo with undercut.
Women all around the world are smitten with the undercut TWA hairdo. To be honest, it made short hair seem desirable and exuded style. Also, it highlights your natural hair. Before you cut your TWA hair short, let it grow longer. This would make the contrast much more striking.
VIII. Patterned TWA style.
Patterns will make your brain spin with delight if you adore quirky fashion. The world of hairstyling is going pattern crazy. The fact that this zig-zag design was created on a TWA makes it appear incredibly sharp and distinct.
How are TWA hairstyles maintained?
Many women struggle to make TWA stay more than a day, despite the fact that it is a protective hairstyle that may last up to a week. You might need to switch up your appearance sometimes if you want your curls to look immaculate. Here are some excellent recommendations you may use.
Spritz a bottle of water into your hair until it is moist but not drenched. The product you used during the first styling procedure will be reactivated by doing this.
To rehydrate your curly hair, use essential oils.
Any flat or unclear curls can be recurred with gel, particularly at the hairline.
Use a cheap blow dryer or let your hair air dry.
You should wear a silk or satin cap at night to keep your TWA hairdo from needing to be updated as frequently.
Summary up.
In addition to this, many actors, models, and athletes use TWA hairstyles to get a stunning appearance in a short amount of time. It's your time now. You merely need to select the best TWA hairstyle from the wonderful 8 we have provided for you. Whether you want to attend a wedding, a date, or something else special, we strongly advise you to pick a flexible and hassle-free TWA hairstyle so you can look your best in front of the public. What follows then? We have found the perfect solution for your demand for a haircut that conveys a princess's iconic beauty and charm.
Related Articles
The Best Hair Colors for Dark Skin Tones-2023