Red Lace Front Wigs You Must Own One on This Summer of 2022
In this summer, every beauty loving woman is trying to dress up, release her beauty, and show her taste and fashion. And a beautiful wig is undoubtedly one of the biggest and most important help to women. Now red front wigs are being chased by many women. Why? Let's uncover the secret for you today.
What is red lace front wig
As the name suggests, red lace front wig is to dye the hair of lace front wigs into red color The red wig color makes us look very confident and charming. When we go out, the shiny color will catch everyone's eye, and the bright color will make you look like a delicate flower. So, what are the benefits of red lace front wigs, and what types can we choose? Please continue reading. We will talk about the advantages of red front wig first.
Advantages of red lace front wigs
All our lace front wigs are carefully handcrafted by experienced wig makers, and one or more hair bundles are fixed at the bottom of the lace at a time.
No shedding or tangling. Our wig is 10A quality.
Our red lace front wig uses 100% pure natural human hair, all from virgin donors.
All the lines of our red lace front wig are very natural, and the hair is soft and smooth.
We have dyed your hair professionally. The red color is pure, and it will be exactly as described. You will like it.
Our red lace front wig can iron and reshape it for you. It looks plump, thick and shiny.
The different types of red lace front wigs in our shop
In terms of the color classification: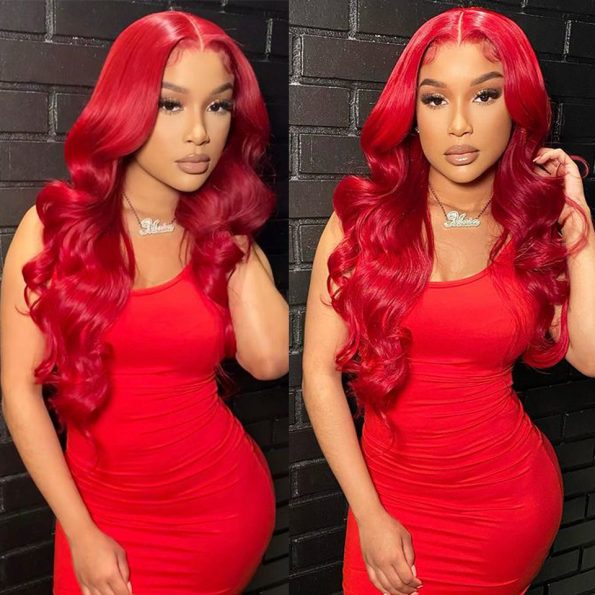 Red Color 13×4 Lace Front Wigs
For 13×4 red lace front wig, we have the straight and body wave style for sale. And the length is from 14inch to 28inch. And the density you can choose is 150% or 180%. It is made by the international standard and the price is affordable.
Burgundy red color lace front wig
13×4/5×5 burgundy straight/body lace front wig will be your choice and the length range is 18inch to 28inch. For density, there are 150% and 180% for you. This kind of red color is very special and can make you more mysterious and attractive, with a very mellow taste like grape wine.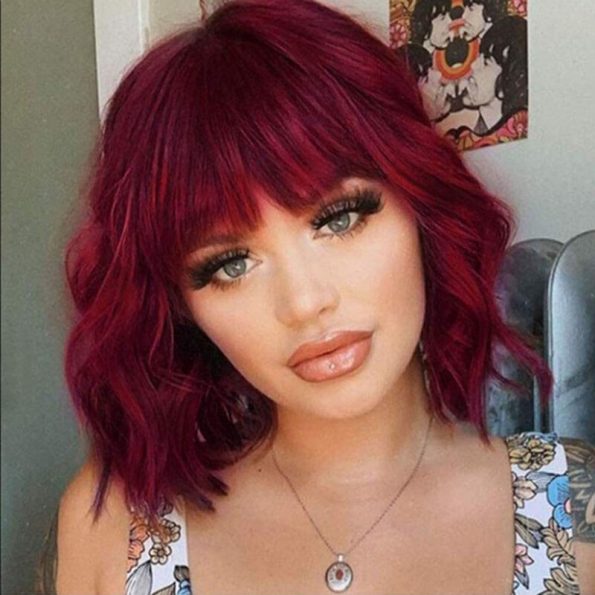 Ombre T1B/99J Bob 4×4 Lace Closure Wigs
This wig is 4×4 lace closure wig with hair color ombre1b/99j, if you like this color, you can do a try. And this wig is much cheaper cause of the lengths and densities. You can choose from 10inch~14inch and 150%. Lower money, Greater color.
According to different types of bob wigs: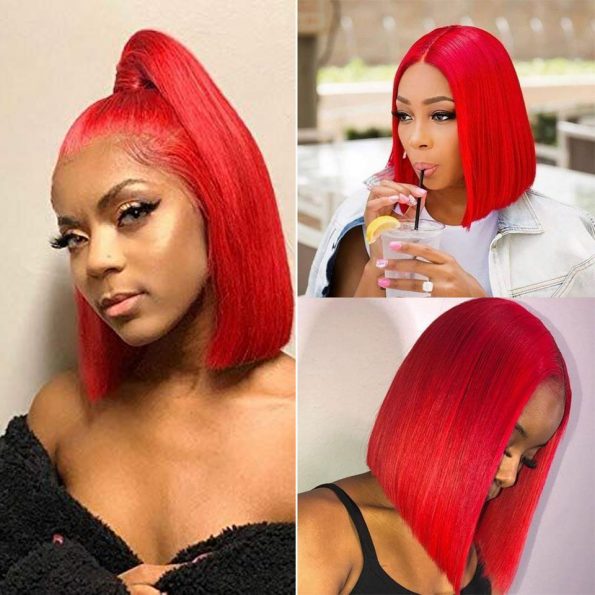 Red Bob Wig Straight Transparent Lace Front wig
13×4/ 4×4 red bob lace front wigs are all 150% density and have 12inch and 14inch for sales. In summer, why not choose a bob wig with the great red color? You really should get one to have a try.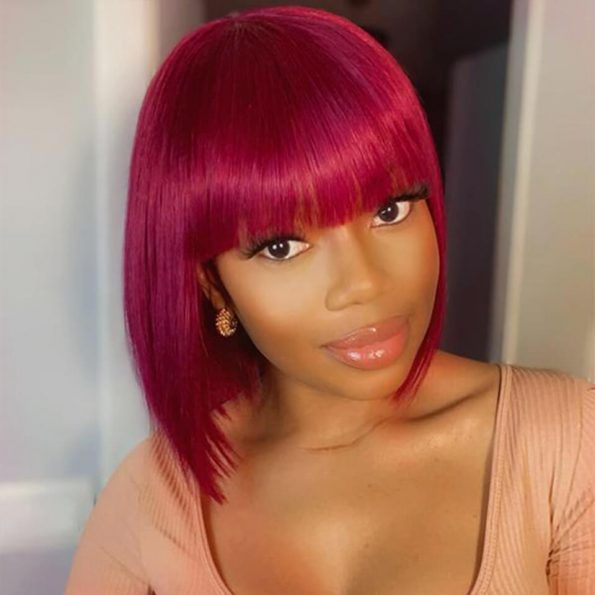 Red Bob Wig with Bangs no lace 180% human hair machined wig
For this wig, It is no lace wig but a machined wig with bangs. We only have the length 10inch, while it is 180% and it will make fuller look. And what's more, the wig has a bang that you will like most.