Honey Blonde Wigs: A Trendy and Timeless Hair Accessory
Honey blonde wigs have become a trendy and timeless hair accessory that continues to captivate the fashion and beauty world. The warm and radiant shade of honey blonde holds a unique appeal that complements various skin tones, making it a versatile choice for individuals seeking to enhance their appearance. In this article, we will explore the reasons why honey blonde wigs have gained popularity, the different styles available, and how to care for and style them.
The allure of honey blonde:
Honey blonde is a shade that exudes warmth and radiance. It's a rich and lustrous color reminiscent of the golden tones found in honey. The warm undertones of honey blonde complement various skin tones, adding a vibrant glow to the face and overall appearance. Whether you have fair, medium, or dark skin, honey blonde wigs can beautifully accentuate your features and bring a touch of sunshine to your look.
Natural-looking beauty.
Honey blonde wigs often feature subtle highlights that mimic the sun-kissed effect seen in naturally blonde hair. These highlights add depth and dimension to the wig, creating a more realistic and natural-looking result. The delicate blend of honey and blonde tones creates a multi-dimensional effect that enhances the overall visual appeal of the wig and adds a touch of authenticity to the hairstyle. With a well-crafted honey blonde wig, you can achieve a natural-looking beauty that turns heads.
Complementing various skin tones.
One of the great advantages of honey blonde wigs is their ability to complement a wide range of skin tones. Unlike some other shades of blonde, honey blonde tends to be universally flattering. Whether you have cool-toned fair skin or warm-toned dark skin, there is a honey blonde shade that can enhance your natural beauty and harmonize with your skin tone. This inclusivity makes honey blonde wigs a popular choice for individuals with diverse backgrounds and complexions.
Versatility in style.
Honey blonde wigs offer versatility in terms of style and can be customized to suit different preferences, occasions, and personalities. They can be found in various lengths, from long and flowing to short and sassy, allowing individuals to experiment with different hairstyles. Whether you prefer straight, wavy, or curly hair, there is a honey blonde wig that can cater to your desired look. This versatility allows individuals to express their creativity and transform their appearance effortlessly.
Choosing the perfect honey blonde wig.
Finding the perfect honey blonde wig can be an exciting and transformative experience. Whether you're looking to change up your look, experiment with a new hairstyle, or enhance your natural beauty, a honey blonde wig can be a versatile and stunning choice. In this section, we will guide you through the process of selecting the perfect honey blonde wig by considering factors such as shade, texture, length, and cap construction.
Shade selection.
The shade of honey blonde can vary, ranging from light, medium, to dark tones. When choosing a honey blonde wig, consider your skin tone and personal preferences. If you have fair or cool-toned skin, you may lean towards lighter honey blonde shades with cooler undertones. On the other hand, if you have warm-toned or darker skin, deeper honey blonde shades with warmer undertones may complement your complexion beautifully. It's essential to select a shade that harmonizes with your natural features and brings out your best attributes.
Texture and style.
Consider the texture and style of the honey blonde wig that aligns with your desired look. Honey blonde wigs can come in a variety of textures, such as straight, wavy, curly, or kinky. Think about the hairstyles you typically gravitate towards and how you want to express your personal style. Straight honey blonde wigs can exude elegance and sophistication, while wavy or curly ones can add a touch of romance and playfulness. Select a texture that complements your face shape and reflects your personality.
Length.
The length of the honey blonde wig is another crucial factor to consider. Wigs can range from short pixie cuts to long flowing tresses. Think about your lifestyle, the occasions you plan to wear the wig for, and your comfort level. Shorter honey blonde wigs can be low-maintenance and provide a chic and edgy vibe. Medium-length wigs offer versatility and can be styled in various ways. Long honey blonde wigs can create a dramatic and glamorous look. Consider what length suits your face shape and personal preferences.
Quality and brand.
Choosing a high-quality honey blonde wig from a reputable brand ensures durability, natural appearance, and comfortable wear. Research different wig brands and read customer reviews to determine the quality and reliability of their products. Look for wigs made from synthetic or human hair that are known for their realistic look and feel. Investing in a well-made wig will ensure that you can enjoy it for a long time and achieve the desired look with confidence.
Exploring creative hairstyles: unleashing the versatility.
When it comes to styling honey blonde wigs, the possibilities are limitless. Unleash your creativity and experiment with a variety of hairstyles to showcase the versatility of your wig. Here are some innovative ideas to inspire your styling journey:
Textured pixie cut:
Embrace a bold and edgy look by styling your honey blonde wig into a textured pixie cut. Use a texturizing spray or pomade to add definition and dimension to the hair. Play with different angles and create piecey layers for a modern and chic hairstyle.
Braided crown:
Channel your inner bohemian goddess by incorporating braids into your honey blonde wig. Create a braided crown by parting the hair down the middle and French braiding each side from the front to the back. Secure the braids with bobby pins and gently loosen them for a romantic and ethereal vibe.
Faux hawk:
Make a statement with a fierce and stylish faux hawk hairstyle. Section the hair in the center, leaving a strip of hair from the hairline to the nape of the neck. Tease and pin the side sections toward the center, creating a voluminous and elevated effect. Smooth the top section for a polished finish.
Retro waves:
Embrace vintage glamour by styling your honey blonde wig into retro waves. Use a curling iron or hot rollers to create classic, Hollywood-inspired waves. Brush through the curls gently with a paddle brush to create soft and cascading waves. Finish with a setting spray for long-lasting hold.
Caring for your honey blonde wig: maintenance and longevity.
To maintain the beauty and longevity of your honey blonde wig, follow these care tips:
Daily maintenance:
Gently brush the wig with a wig brush or wide-tooth comb to detangle any knots or tangles. Start from the ends and work your way up to avoid pulling or damaging the hair fibers.
Washing and conditioning:
Depending on how often you wear your wig, wash it every 10-15 wears or as needed. Use a wig-specific shampoo and conditioner to cleanse and moisturize the hair. Follow the manufacturer's instructions for the best results.
Drying:
After washing, gently squeeze out excess water from the wig and pat it dry with a towel. Avoid rubbing or twisting the hair, as this can cause tangling. Allow the wig to air dry on a wig stand or mannequin head to maintain its shape.
Avoid heat styling:
While honey blonde wigs can often withstand heat styling, it's best to minimize the use of heat tools to prevent damage. Opt for heat-free styling techniques whenever possible, such as wet-setting or air-drying with twists or braids.
Storage:
When not in use, store your honey blonde wig in a cool and dry place, away from direct sunlight or excessive humidity. Use a wig stand or mannequin head to preserve its shape and prevent tangling.
Professional maintenance:
If you're unsure about how to handle a specific issue or want to ensure the best care for your wig, consider consulting a professional wig stylist or hairstylist. They can provide guidance on maintenance techniques, repairs, or restyling if necessary.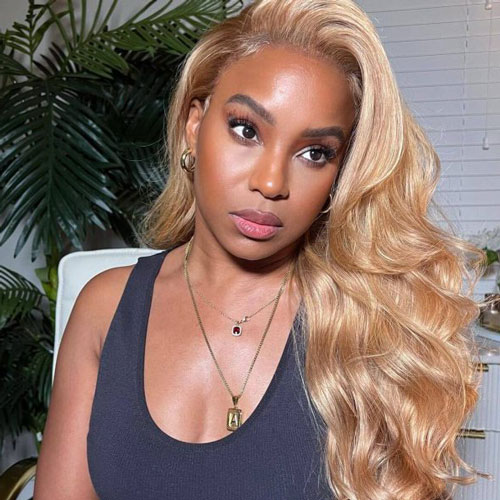 This is a stunning choice for those looking to add a touch of honey blonde color to their hairstyle. Made from high-quality human hair, these wigs offer a natural look and feel. The body wave texture adds volume and movement to your hair, giving you a glamorous and effortless look.
What sets these wigs apart is the HD lace frontal, which provides an incredibly realistic and seamless hairline. The lace material blends effortlessly with your skin, creating an undetectable appearance. This frontal wig style covers the entire front of your head, allowing you to part the hair in any direction for versatile styling options.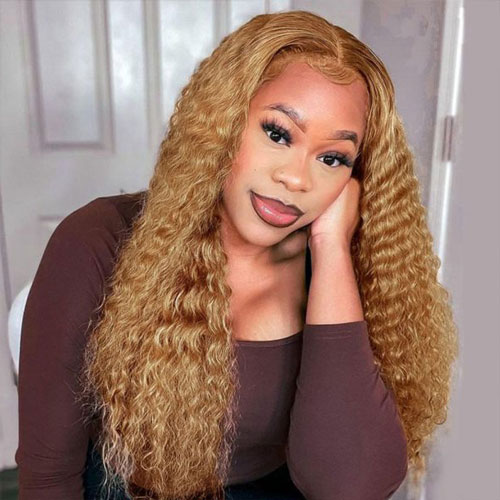 This wig features a beautiful water wave texture, which gives your hair a natural, beachy vibe. The waves create movement and add volume to your hairstyle, making it perfect for those who want to achieve a carefree and romantic look.
Like the previous wig, this option also comes with an HD lace frontal. The 5×5 and 13×4 measurements refer to the size of the lace area, providing a wider coverage for a more realistic and seamless hairline. The HD lace blends flawlessly with your skin tone, ensuring that the wig looks natural and undetectable.
The honey blonde #27 color adds a touch of warmth and brightness to your hair, making it an eye-catching choice. Whether you're going for a casual day look or a glamorous evening style, this water wave wig offers versatility and elegance.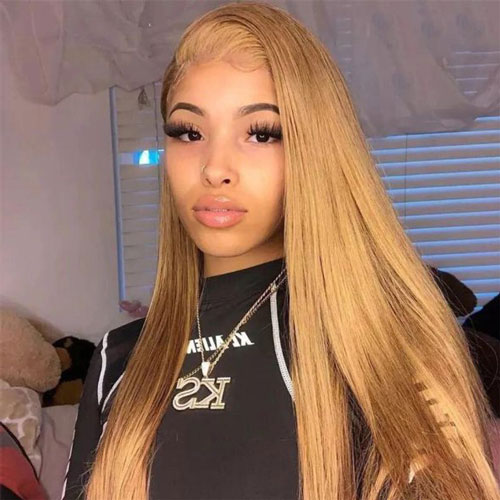 For those who prefer a sleek and polished look, the this is a perfect option. These wigs feature straight hair, which gives a sophisticated and chic appearance. The straight texture allows for easy styling and versatility, whether you want to wear it down or create an updo.
Like the other two products, these wigs come with an HD lace frontal, ensuring a natural-looking hairline. The HD lace seamlessly blends with your skin tone, providing an undetectable appearance. The full frontal coverage allows for various parting styles and gives you the freedom to experiment with different looks.