Deep Wave Lace Front Wig are very popular recently. They are all 100% human virgin hair Many customers began to buy and try it. However, some new customers do not know much about this wig. Today we will show you about this wig.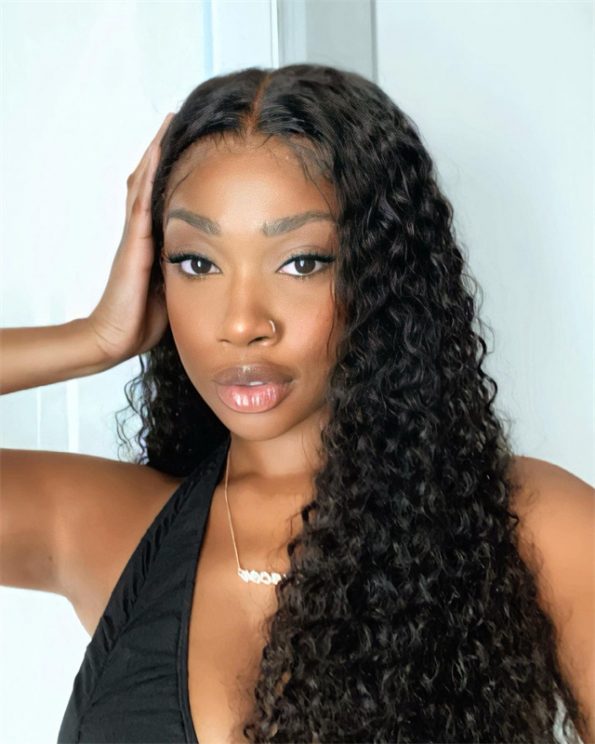 What is a deep wave lace front wig
Deep wave wig is a special kind of curly hairstyle lace front wig. The curling amplitude of deep wave hairstyle is larger than that of body wave and smaller than that of curly hair. The overall curve is smooth and neat, which makes you look elegant and shiny.
Advantages of a deep wave wig
1. Good texture
The texture of our shop's deep wave wigs is made of high-quality human virgin hair, with smooth waves and healthy luster.
2. Elegant and stylish style
Deep wave wig can make our hair look plump and soft, giving people a unique charm.
3. Good practicability.
The wave wig has a beautiful appearance and strong practicability, and is suitable for all kinds of faces, body shapes and ages, and can be suitable for all kinds of occasions.
Some popular deep wave lace front wigs in our hair shop
1. 360 Lace Frontal Wigs Deep Wave Wig
This wig has 150% and 180% density and a range of length from 10in to 28in. It is natural black color and it is a kind of 360 lace frontal wig, on which you can do more designs.
2. Deep Wave 5×5 Lace Closure Wigs
This wig has three kind of densities: 150%, 180% and 200%. The lengths for your choosing is from 10in to 30in. The wigs are 5×5 lace closure wigs that the prices will be more inexpensive.
Final thoughts
MscocoHair is doing a sales promotion. Many high-quality wigs include deep wave wigs have great prices Waiting for your order, dear.